Offset lithography continues to grow in the second half of the twentieth century. The last years of the century see a new competing technology come to market in the form of the first digital presses. Simultaneously the desktop publishing revolution takes place. The latter is documented in much more detail in yearly overviews, starting from 1984 and the launch of the Apple Macintosh.
1951 – Heidelberg Tiegel is the star of the first drupa show
The first drupa trade show is held in Dusseldorf, Germany. drupa, which stands for 'Druck und Paper' (print & paper), is a specialist trade fair for the printing industry.
1952 – Security printing
In Lausanne, Switzerland, Gualtiero Giori founds Organisation Giori to develop and sell technology, equipment, and services for printing banknotes. This includes a center to train state printing plant staff in the best practices in banknote design and production.
1953 – Playboy magazine
The first issue of Playboy has Marilyn Monroe on its cover and centerfold. Nearly 54000 copies are printed and sold for 50¢. Mint copies now sell for over $5000.
1954 – drupa
The second drupa fair is a major success with 226388 visitors. The show highlights are engraving machines for letterpress printing. Grapha, which gets renamed to Grapha Maschinenfabrik Hans Müller A. G a year later, exhibits the BSV, its first fully automatic saddle stitcher with an in-line trimmer, as well as its adhesive binder.
1957 – First Komori four-color press
Komori develops its first four-color offset press, the UM-4C.
1959 – Xerox plain-paper copier
The Xerox 914 is the first successful plain paper copier. It can make six copies per minute and had been preceded in 1949 by the 'Model A', the first commercial xerographic copier.
1962 – Hell HelioKlischograph
Dr. Ing. Rudolf Hell introduces the HelioKlischograph K190 – the first in a series of systems for gravure printing. Subsequent models have separate scanning and engraving units ( the 1965 HelioKlischograph K193) or digital electronics (the 1974 HelioKlischograph K200). The product family still exists today – the K500 model is shown below.
Andy Warhol popularizes screen printing, also called serigraphy, as an art form. His 'Turquoise Marilyn' is produced using acrylic paint and a silkscreen print on linen.
Kolbus introduces a fully automatic book finishing system that is capable of producing 36 books a minute on a continuous production line.
1965 – Vickers Crabtree
In the UK Vickers acquires the press manufacturer R.W. Crabtree. The press shown below is a 5-color Crabtree Sovereign perfector from 1969.
1967 – ISBN
Océ enters the office printing market with an electro-photographic process for copying documents using a special chemically-treated type of paper. Its first plain-paper office copier follows in 1973. Instead of a xerographic process, this copier uses a developer free technology that later on will also be used in Océ's high volume printers.
ISBN is started in Britain. The International Standard Book Number is a unique numeric identifier for commercial books.
Japanese press manufacturer Sakurai exhibits for the first time at drupa, showing off their Monarch full-automatic screen press.
1968 – Using silicone for pad printing
Tampoprint in Germany replaces the low-endurance gelatine pads used in pad printing presses by silicone pads. This allows such presses to print much longer runs on an industrial scale.
1969 – Muller Martini is founded
Grapha Maschinenfabrik Hans Müller A. G and Martini merge and become Muller Martini.
1970 – Xerox plain-paper color copier
Xerox patents expire, allowing other manufacturers such as Canon to create xerographic copiers. Xerox does, however, continue to dominate the market and launches its first plain paper color copier, the Xerox 6500, in 1973.
The same year water-based inks are introduced.
In London Saatchi & Saatchi is founded. It will become a major communications and advertising agency network, operating in 76 countries.
1971 – Quad/Graphics
This American printing company is founded by Harry and Elizabeth Quadracci in Sussex, Wisconsin. It will become one of the largest magazine printers in the world, with production facilities in the United States, Canada, Europe and Latin America.
1972 – Presses with an integrated ink control system
The ROLAND 800 is the first sheetfed offset press with an integrated ink control system. It can print up to 10000 sheets per hour. It is one of the highlights of the drupa 1972 show.
1973 – All-time high newspaper readership
Newspaper circulation reaches its highest level ever in the US. It will remain fairly steady until a gradual decline sets in during the mid-'80s. The graph below is from the Editor And Publisher International Yearbook.
1974 – First Shinohara offset press & Lonely Planet guide
Shinohara Machinery Company builds its first offset press, the Fuji 58.
The first Lonely Planet travel guide is published. Below it is shown next to the 2016 edition.
1975 – IBM & Xerox laser printers
The first laser printers, such as the IBM 3800 (shown below) and Xerox 9700, hit the market. They are prohibitively expensive but useful for applications such as cheque printing.
1977 – Indigo is founded
Benny Landa founds Indigo, initially a research company that licenses its technology to other manufacturers. This changes in the mid-80's when the company develops ElectroInk, a liquid ink that the company uses in the E-Print 1000 digital press from 1993.
1979 – MAN Roland Druckmaschinen
MAN Roland Druckmaschinen AG is formed as a result of the merger of the printing press division of Maschinenfabrik Augsburg-Nürnberg and Roland Offsetmaschinenfabrik Faber & Schleicher. In 2008 the company will be renamed to manroland.
1982 – Plastic banknotes
The American Bank Note Company prints the first plastic banknotes using DuPont's Tyvek polymers. Australia is the first country to use polymer banknotes for general circulation from 1992 onwards.
1984 – The Mac is born
The Apple Macintosh is a ground-breaking computer which for the first time combines a graphical user interface and a mouse with a 'reasonable' price tag of $2490 (taking inflation into account that is over $5000 today).

Adobe launches PostScript, a page description language that can be used to control output devices like laser printers. The Linotronic 300 imagesetter is the first 2400 dpi output device to ship with a PostScript RIP.
1985 – Desktop publishing takes off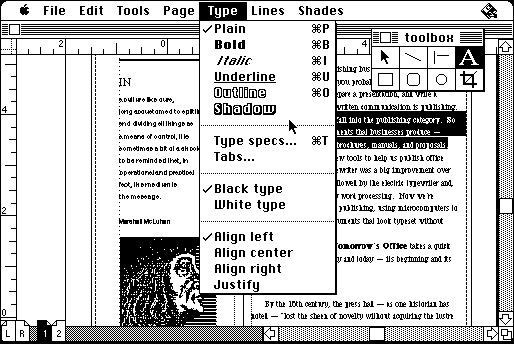 Steve Jobs convinces John Warnock from Adobe to create a PostScript controller for their Apple LaserWriter, allowing it to output 'typesetter quality' pages. Apple and Adobe are fortunate enough to stumble upon a small start-up that has created an application to utilize the Mac and LaserWriter to their full extent. That company is called Aldus and its software product is PageMaker.

1986 – Wapping dispute
5500 employees of News International go on strike in a dispute over new working conditions and the proposed move from Fleet Street to new premises in the London Docklands. Despite a long and bitter battle between the strikers and the police, The Times, the Sunday Times, The Sun and the News of the World get published every single day. This Wapping dispute is a key event in the development of the British newspaper industry.
At drupa 1986 MAN Roland Druckmaschinen AG introduces its LITHOMAN commercial web offset printing press. Polar shows off the POLAR Compucut, a system for computer-assisted, external generation of cutting programs with automatic transfer to the cutting machine.
1990 – Xerox Docutech
Xerox launches its first DocuTech system, known as the DocuTech Production Publisher. The system is based on a 135 page-per-minute black & white 600 dpi xerographic print engine with attached scanner and finisher modules. It is arguably the first affordable 'print-on-demand' publishing system.
1991 – On-press imaging
The Heidelberg GTO-DI uses Presstek plates which are imaged on the press itself. This direct imaging technology looks promising but even though other vendors start offering similar solutions it never really catches on. In 2006 Heidelberg abandons the technology.
The same year a rise in US postal rates leads to high demand for new stamps, causing the Postal Service to shift printing contracts to private companies. This leads to the first every US stamps being printed outside the country, in Canada.
1992 – Lewd advertising
Companies can still get away with some pretty raunchy advertising, as this Sega ad shows. Other adverts in the series suggest you should 'Let Sega satisfy you' and that Ecco the dolphin, one of their game characters, is 'Ready to blow'.
1993 – First digital presses
The Indigo E-Print 100 is a digital press that uses ElectroInk, a kind of fluid ink which in its first incarnation can actually be rubbed off the paper. Competing systems such as the Xeikon DCP-1, introduced the same year, rely on toner. In 2002 Indigo is acquired by HP while Punch Graphix buys Xeikon.
1995 – ROLAND 900, Craigslist & Vistaprint
At drupa MAN Roland Druckmaschinen AG launches the ROLAND 900, an innovative large-format sheetfed offset press.
The very first post appears on Craigslist. Within a few years, this web service has an enormous impact on US newspapers because they lose a major part of their classified ads income to the site.
Vistaprint is founded in Paris, France by Robert Keane who believes in the potential of offering short-run, high-quality printing to small businesses.
1997 – Harry Potter
The first edition of Harry Potter and the Philosopher's Stone, a fantasy book by J. K. Rowling is published. With 120 million copies sold this is the best selling novel of all times. The best-selling book of all times remains the Bible with over 5 billion copies sold.