Prepressure covers design techniques, PDF, PostScript, fonts, JDF and numerous other prepress topics that have to do with printed communication and graphic arts.
Prepress Pete is tweeting
PDF 2.0 has been released
In 2007 Adobe handed over the PDF file format to ISO, the International Organization for Standardization. It took that organization ten years to come up with a new version of the PDF specifications. Earlier this month that finally happened when ISO released PDF 2.0. In the short run this will not have much impact but the new functions will gradually start being used by design and prepress applications. A short description of the new features and improvements can be found on the page about PDF versions.
100 trillion dollar banknote
I knew these existed but had never seen what they looked like. It is a nice addition to the 2008 prepress and printing news page.
Used for too long?
The Boston Globe published an interesting video tribute to the presses and press men at their Dorchester printing plant, which is about to be closed down. While I admire how they managed to keep presses running for over 50 years, you also have to wonder if lack of innovation isn't part of the problem that so many newspapers face today. During visits to the United States I've never been impressed by any of the newspapers I bought or read at hotels. A boring layout, old-fashioned typefaces, coarse screening and lackluster color, that about sums it up. Newspapers can be much more appealing. My own daily newspaper has a spread dedicated to showing pictures around one central theme, which is way more fun than Instagram. The layout often makes excellent use of the available real estate and color is not an afterthought bolted on top of black text. A printed newspaper should be fun to read and I hope their brand-new facilities also allow the Boston Globe to make their newspaper more appealing.
Prepress Pete is tweeting
Friday flashback:  Miniature Bibles were yesteryear's way of tweeting the holy book – https://www.prepressure.com/printing/history/1700-1799#1727
The 70 Second Guide to Offset Printing
Two years ago I learned to use Blender, a 3D application. All the students had to make a short movie at the end of the year so I decided to create an animation that would be relevant for this site. It was fun but even though it took my computer ages to render all the frames I wasn't completely happy with the end result. My movie is too grainy, too grayish and it features a somewhat quirky panning motion. It needs to be redone but this year's project of learning JavaScript and jQuery kept me from doing so. Finally I decided to just put it on YouTube anyway and maybe update it later. Enjoy!
The bang and interrobang
In his weekly video Frank Romano talks about the bang and interrobang.
Prepress Pete is tweeting
Friday flashback: Shipping these new presses might take us 'a nanosecond or two' – https://www.prepressure.com/prepress/history/events-2012
New poll: what type of files do you receive?
While awaiting the results of the GWG poll on PDF usage, I decided to reuse one of their questions, just to see if the feedback on this site would be substantially different. Please vote in the poll to the right. The previous poll asked how many visitors still have a printed photo calendar at home.
Prepress Pete is tweeting
Friday flashback: Stop the presses! There is war! No… wait! Start the presses! – https://www.prepressure.com/printing/history/1900-1949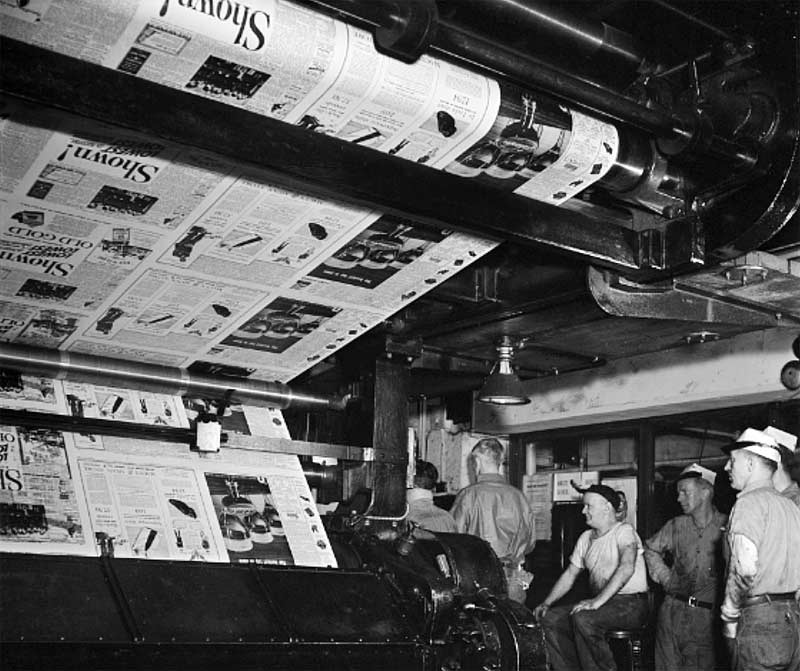 Special offset printing inks
Regular process inks or spot color inks can have unique properties. They can be extra glossy, resistant to abrasion, low-odor, dry fast under UV light, etc and of course, they are usually optimized for a specific printing process and/or type of substrate. There are however also special inks. These are often used to make advertising material, packaging and labels stand out. Some of them are used for security purposes.
Thermochromic inks
These inks either change color or become transparent when temperatures increase or decrease. There are inks that will keep changing color or transparency and others that will only change once. Thermochromic inks are used in toys, battery indicators and some types of thermometers. They are also used frequently in packaging, to show commercial messages or to show the packaged product is warm or cold enough.
Metalic inks
This inks have a metal-like character. They contain metallic particles that rise to the surface after printing, reflecting light and creating a metallic sheen that simulates zink, copper, gold or silver. Inks that aim to create a metallic sparkle effect are called glitter inks.
Mirror inks
Mirror inks are a special kind of metallic inks. When printed on the reverse side of a transparent substrate like glass, polyester or poly-carbonate you achieve a mirror effect. This can be done with offset but also screen printing.
Pearlescent inks
The metal oxide based pigments in these inks give a characteristic gloss to the printed image that is comparable to the iridescent gloss of pearls.
Watermark imitation inks
As the name implies these colorless inks imitate a watermark.
Scented inks
These inks give off a scent when the printed surface is scratched. The inks contain tiny nano-sized particles that encapsulate a fragrance. Scratching the printed surface tears open the capsules so that the scent is released.
Scratch-off inks
Instant win lottery tickets have a thick layer of scratch-off ink applied. Scratch off ink is also used to hide secrets codes for contests on beverage cans or other types of packaging. First a release varnish or UV coating is printed and then the scratch-off ink layer is printed on top. This can be done with screen printing as well as offset lithography. In offset you may have to print multiple layers to get a good result.
Magnetic inks
These inks are used as a security measure on checks and other high-value documents. They contain particles of a magnetic substance whose presence can be detected by magnetic sensors. A counterfeit copy produced using regular inks will not pass a validation by an MICR (magnetic ink character recognition) reader.
Luminescent inks
These have two completely different uses:
Luminescence security inks, which are sometimes called marking inks
marking inks or UV/IR excitation inks, light up when exposed to ultraviolet or infrared light. They are used as a security measure on banknotes and other high value printed documents.
A bit more frivolous are photo luminous glow-in-the-dark inks, which temporarily emit a weak light in the dark.
Prepress Pete is tweeting
Friday flashback: Two birthdays in a row, 1987 really was a fruitful year – https://www.prepressure.com/prepress/history/events-1987
PDF/X summary
The PDF Association offers a free 17-page guide to the PDF/X file format, called PDF/X in a nutshell. That topic is also covered in some detail in the special PDF flavors section of my PDF overview pages.
Follow us on Twitter
If you would like to know when new content appears on this site, please follow us. If you are somewhat less serious, consider following Prepress Pete, our in-house village idiot.
Older comments can be found here.
22 August 2017