Prepressure covers design techniques, PDF, PostScript, fonts, JDF and numerous other prepress topics that have to do with printed communication and graphic arts.

GWG 2017 PDF survey
The Ghent Workgroup is an industry association dedicated to advancing the print, publishing and packaging industries. They've set up a survey about the use of PDF to better understand how processes have changed over the years, which specifications are being adopted, and how workflows vary. Please participate to help them improve the solutions they offer and maybe win a price along the way.
Font versus typeface
The type snob is an informative article about typography. It focuses on web design but a lot of the recommendations apply to print design as well.
Prepress Pete is tweeting
Friday flashback: The Macintosh IIfx, the best computer I ever worked with. Period. – https://www.prepressure.com/prepress/history/events-1990
The poll: photo calendars
Each year my employer creates a beautiful calendar, using a variety of inks, substrates and printing techniques. That limited edition is popular with customers but I wonder how many people still value printed calendars at home. That is why the new poll to the right asks if you still use one at home.
The previous poll asked visitors which version of Acrobat they use.
Prepress Pete is tweeting
Friday flashback: Louis Braille publishes his alphabet for the blind in 1829 – https://www.prepressure.com/printing/history/1800-1849

Plantin-Moretus revisited
Last week I spent an afternoon taking pictures in the Plantin-Moretus museum.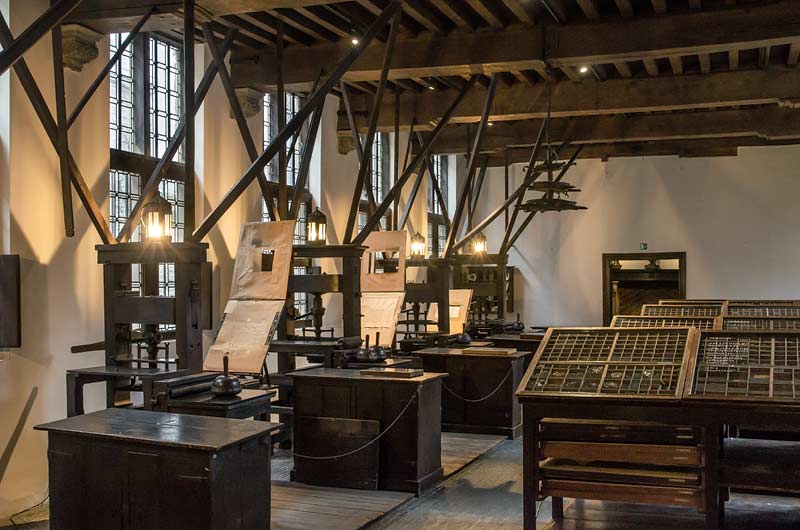 Get your cards here
It is kind of fascinating that US citizens can ask their president to sent them a greeting card because of an upcoming birthday, wedding, retirement or other special event. You just have to fill in a form on the White House website. Since that site is currently being reworked, the page is temporarily offline. What you cannot ask, though, is the Christmas card that US presidents since Calvin Coolidge in 1927 send to their staff and supporters. Below is the 2013 card of president Obama.
Graphic Design and Print Production Fundamentals
Who can resist a freebie? While working on a page about imposition I accidentally stumbled upon a free book about graphic design and print production. You can download the ebook version or read it online. It seems like a decent introduction but I haven't read much yet, so you will have to find out yourself.
Prepress Pete is tweeting
Friday flashback: crude spot colors in funny penny prints – https://www.prepressure.com/printing/history/1800-1899
Follow us on Twitter
If you would like to know when new content appears on this site, please follow us. If you are somewhat less serious, consider following Prepress Pete, our in-house village idiot.
Older comments can be found here.
18 March 2017