Digital printing matures and gradually starts replacing other printing techniques.
2000 – Cortina waterless offset & NexPress
For press manufacturers, drupa is an incredible success. Many of the big vendors, such as Heidelberg and Manroland, report an unprecedented number of sales. One of the highlights of the show is the KBA Cortina, a waterless web press for newspapers and semi-commercials. The model below is a compact version.
Among the digital presses the NexPress (shown below), a joint development from Heidelberg and Kodak, and the Manroland DICOweb get most of the attention. The DICOweb is, however, a short-lived commercial failure.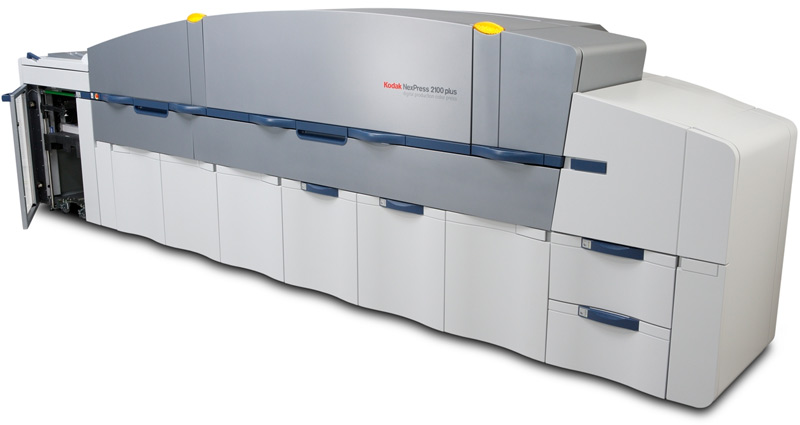 2001 – Market consolidation
HP acquires Indigo.
Scitex sells off Vio and Karat, which is bought by KBA.
2002 – Xeikon bankruptcy
In March Belgian electronics specialist Punch buys Xeikon, which had been declared bankrupt earlier that month. The other bidders were Manroland and Yam International.
2003 – Decline of offset printing
Kodak forms a dedicated commercial printing business unit. The division includes its NexPress joint venture with Heidelberg.
The overall volume of sheetfed offset print revenues reaches its lowest point in the decade. 2007 will be the best year.
2004 – Heidelberg focuses on sheetfet offset
Heidelberg sells off its web press division to Goss and its NexPress digital arm to Kodak. It intends to focus uniquely on sheetfed presses.
2005 – Konica Minolta and Canon digital presses
The market for digital presses keeps expanding with the launches of the Konica Minolta Bizhub and Canon Imagepress.
EFI acquires VUTEk and enters the wide-format inkjet market. It will later also acquire Jetrion, Raster Graphics, and Cretaprint, making it a dominant leader in this market.
2007 – Shortrun on-demand bookprinting
The Espresso Book Machine is a print-on-demand system that combines a printer, such as the Xerox WorkCentre 4112, with a collating, binding and cutting unit. A small color printer is used for covers. The EBM can print a 300-page book in 4 minutes. It costs from $97,000 plus printer.
2008 – Printing industry is hit hard by financial crisis
A financial crisis followed by a worldwide economic turndown put a lot of pressure on the printing industry. The overall volume of print drops significantly. The newspaper industry seems to suffer the most, mainly due to higher paper prices, declining advertising revenue, and increasing competition from the web.
One of the largest printing companies in the world, Quebecor World, files for Chapter 11 bankruptcy protection.
At drupa, the focus lies on inkjet printers with much attention going to high-speed, high-quality roll-fed inkjet printers from companies like HP (the T300), Screen (their Truepress Jet2500UV is shown below), Infoprint, Oce, Fujifilm (whose Jetpress 720 is the first sheetfed B2-press) and Kodak (the Stream concept press). HP introduces its latex inkjet technology, aiming to combine the ability to print durable graphics onto uncoated materials with high image quality and eco-friendliness.
2009 – Press manufacturers suffer from the crisis
The financial crisis continues. According to estimates of the American Forest & Paper Association, newsprint production falls by 30% in 2009 and magazine print by 25%. Folio reports that 596 magazines disappear from the US market. One of the first cost-cutting measures that many companies take is reducing their capital expenditures. Press manufacturers suffer the most from this. According to some estimates over 30% of their deals closed at the 2008 drupa show get canceled. Heidelberg has to apply for a 300 million Euro state loan to survive. A planned merger with Manroland is called off by the latter due to its rival's poor financial results. Oddly enough some vendors, like KBA, do not seem to suffer that much from the crisis.
Goss International installs a Goss Sunday 5000, the world's first 96-page web press, at Italian magazine printer Grafiche Mazzucchelli. Three years later manroland will announce its solution with a web width of 2.86 meters, the 96-page LITHOMAN S.
Canon buys Océ for US $1.1bn.
Competition among printers remains fierce. A look at some typical prices shows how much these have dropped over the past years: In 1995 1,000 4 color business cards went for $125. In 2009 they cost around $9.95. In 1995 customers paid around $450 for 1,000 4 color brochures. A similar job now costs $99.
Chinese companies produce 85 million tons of paper, up from 40 million tons in 2000 and 15 million tons in 1990.
2010 – Digital presses dominate IPEX and graph Expo
At the IPEX 2010 show in Birmingham, UK the largest booths are no longer those of press manufacturers like Heidelberg or Man Roland but of printer manufacturers like HP, Xerox, and Canon. Digital inkjet printing technology is a hot topic, along with web-to-print and cross-media publishing. Among the new devices that are launched are the Prosper 5000XL, Kodak's flagship color continuous-feed press, and the Konica Minolta Bizhub C8000 digital press. Many see the success of the show as a clear indicator of the revival of the graphic arts market.
The focus on digital print is also visible at Graph Expo 2010 where Heidelberg and Komori are absent while manroland and KBA aren't showing any presses. Even though digital printing grows, it still represents only around 3% of the total print volume and 6% of the print value. According to a KBA report issued the same year, China becomes the biggest market for litho presses.
When asked what he thinks about the suggestion that the New York Times might print its last edition in 2015, its publisher Arthur Sulzberger Jr says he sees no point in making such predictions and that all he can say is that "We will stop printing the New York Times sometime in the future, date TBD".
The World Wildlife Fund attempts to launch a 'green' file format. The WWF format is simply a PDF that cannot be printed out to 'stop unnecessary printing and encourage a new awareness about the use of paper'. The WWF initiative never gets any traction but positioning print as a sustainable industry does become a trend.
2011 – Industry consolidation
Online advertising takes over the number two spot from newspapers in the US advertising market.
Equipment manufacturers realize that their world is changing rapidly. Many of them cooperate with other vendors to try and build a presence in the digital printing market. This leads to a series of interesting partnerships: Heidelberg & Ricoh, Manroland & Océ, KBA & RR Donnelley & Son and last but not least Kodak & Konica Minolta.
Declining sales and a resulting debt of $94 million force the Japanese press manufacturer Shinohara to file for bankruptcy protection. Its sales had dropped from $60 million in March 2009 to $26 million in March 2010. In November German press manufacturer manroland AG also files for insolvency. They state their dramatic drop in incoming orders is caused by customers having difficulty in obtaining financing for purchasing printing presses.
The chart below shows the market trends of the major printing categories in the USA, using 2001 as a base year. It shows the only growth categories in the past 10 years were commercial flexography (mainly labels) and digital printing, which started from a very low base (data collected by Dr. Joe Webb).
Xerox launches the CiPress 500 high-speed waterless inkjet press.
In its London headquarters, Stroma starts printing color editions of international newspapers on an Océ JetStream 1000. This digital inkjet press can print in excess of 1000 36-page tabloid newspapers per hour.
In the US overall sales of ebooks pass sales of paperbacks. Seven months earlier, in July 2010, webshop Amazon's US digital book sales had already eclipsed the sales of hardcover books.
2012 – Landa announces nanographic printing presses
Most pundits label the 2012 drupa trade show 'yet another digital printing drupa' or 'the inkjet on steroids drupa'. Benny Landa announces a range of nanographic printing presses that combine the versatility of digital printing with the low cost and quality of offset. These presses are the buzz of the show but it takes another 5 years before even the first beta site to test the technology is started.

Among the other announcements is Xeikon's Quantum toner technology. Three new B2-size sheetfed digital presses are announced: the HP Indigo 10000 (shown below), Screen Truepress Jet SX & Konica Minolta KM-1. Despite the upbeat mood during the show itself, attendance decreases to 314500 visitors.
Many press manufacturers change ownership: Manroland is split up. Langley Holdings purchases the sheet-fed division and the web division is acquired by Prossehl. Hans-Gronhi purchases Shinohara. Wifag buys Solna.
Hans-Gronhi purchases Shinohara. Wifag buys Solna.
Wifag buys Solna.
After 244 years the Encyclopædia Britannica discontinues its print edition.
2013 – China Print shows the growth of the Chinese printing market
China Print, the largest Chinese graphic arts trade show, draws 180 000 visitors and has almost as much floor space as drupa.
Xerox acquires Impika to extend its foothold in high-speed inkjet.
According to HP, the users of its production inkjet presses print enough pages each month to circle the earth more than 14 times.
Heidelberg announces it will phase out production of its Printmaster GTO 52 from March 2014. Since its launch in 1972 106,000 units have been sold worldwide. The press manufacturer intends to focus sales on its Speedmaster SM 52 and SX 52 devices and its Linoprint C 901 and C 751 digital printers.
2014 – Vistaprint acquisitions
Vistaprint acquires the Dutch Drukwerkdeal.nl as well as a 97% stake in Italian web-to-print business Pixartprinting and a $25 million stake in Brazilian web-printing startup Printi.
French press manufacturer MGI uses the British Ipex trade show as the global launchpad its new Meteor DP8700 XL+ digital press, DF Pro inline finishing unit, and JETvarnish digital spot coater. The Ipex show itself is smaller than previous editions because Heidelberg, Agfa, and several digital press vendors decide to no longer attend it.
Xerox launches the Versant 1200 digital press, to compete with the Konica Minolta C8000 and Ricoh C901 in the mid-range segment of the digital printing market.
Heidelberg stops manufacturing saddlestitchers and perfect binders but it continues its line of Stahlfolder folding machines.
In the USA print keeps getting less attention from the average consumer. The graph below shows the percentages across various media, but keep in mind this is only for consumer print: packaging, sign & display, and other markets are as healthy as ever.
At Graph Expo 2014 in Chicago, one of the show highlights are the digital die-cutting devices of Highcon, an Israeli company.
2015 – Digital label printing
At the Labelexpo Europe trade show, Gallus showcases the first modular digital inline label printing system, the DCS 340, which is later relabeled as the Labelfire 340.
Müller Martini stops making printing presses and shifts its focus entirely to finishing machines.
Flint Group acquires Xeikon and uses the press and consumables manufacturer as the basis of a new digital division, Flint Group Digital Printing Solutions.
2016 – Inkjet presses dominate drupa
At the drupa trade show, digital printing in general and specifically inkjet printing on corrugated packaging board attracts a lot of attention. Among the presses shown or previewed are the EFI Nozomi C18000, the HP PageWide C500, and the Durst Rho 130 SPC (shown below).

Several vendors showed digital embellishing and finishing equipment. A prime example is the Scodix E106 which can be used, among others, to add foils to short or medium run folding cartons.
Bertelsmann creates the Bertelsman Printing Group, Europe's biggest printing group with revenues of €1.7 billion and nearly 9000 employees.
An infographic in the drupa global trends reports shows which print technology various types of printing companies invest in.